Faculty of Business and Law
School of Strategy and Leadership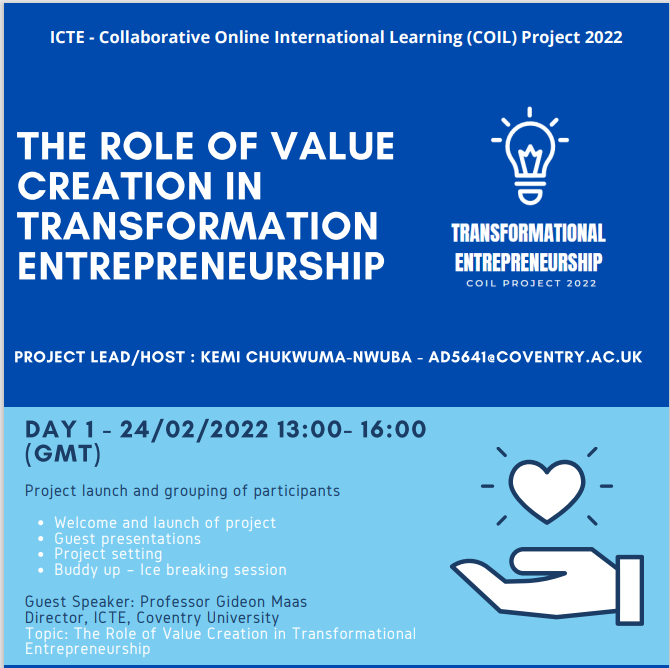 Academic Year: 2021-22
Project Leaders: Dr Kemi Chukwuma-Nwuba, Tanya Vidanagama
Partner University(s)/Organisation(s): Cape Peninsula University of Technology in South Africa (CPUT), University of Applied Sciences and Arts of Southern Switzerland (SUPSI), University of CEMA in Argentina (UCEMA), American University of Ras Al Khaimah in United Arab Emirates (AURAK)
Project Overview:
This Collaborative Online International Learning (COIL) project involved all ICTE (International Centre for Transformational Entrepreneurship) students from Coventry University and students from four international institutions in Africa, Asia, Europe, and South America respectively. The aim of the project was to identify a problem in any community and create a hypothetical venture to solve that problem. In doing this, the following ingenuity process questions were to be applied: Who is affected by the problem? What are the consequences? When does it occur? Where is it prevalent? How is the problem manifested? The Business Model Canvas was used to present the plan of the ventures including an audit of the skills needed for the venture. 
The project lasted for five weeks with a total of 123 participants assigned into 15 groups. Each group presented their projects on creative posters. Subsequently, the best three projects were selected by the panel of judges comprising of two academics and two business owners in Coventry, who are the executives of Business Network International (BNI).
The participants had the opportunity to collaborate internationally on the project, share ideas with others which helped them develop confidence in their own knowledge while additionally increasing their social capital. Despite the varying time zones, we were still able to manage the project effectively.  
Online Tools Used: Zoom, Aula, Email